I was very excited to order my Laundry POD and could not wait for it to arrive. I should first tell you a little about our situation so you can better understand how much this has helped us out.
My daughter is a single mother and has two children who are ages two and three. I am staying with them to help her with the kids while she works and gets on her feet. She is doing great and well on her way too.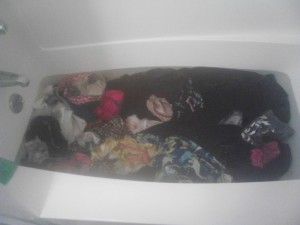 We live in an apartment with no washer or dryer hookups. The laundry facility is just across the drive and you would think that would be the perfect setup. However, it is a huge endeavor to carry a load of laundry and detergent as well as keep track of two toddlers going that short distance.
Rather than do all of that, most of the time I chose to just wash our clothes in the bath tub and hang them around the house to dry. This is not especially difficult except I have degenerative disc and two bulging discs. Leaning over the tub and wringing all the clothes out by hand was quite hard on my back.
And so I began a search for portable washing machines….
About Portable Washing Machines
It is pretty self explanatory but there are many more types and brands than you would think. A portable washing machine is a device that enables you to wash your clothes but also can be moved around easily.
There are electric ones which hook to your sink faucet. Our apartment is quite small so this was not a viable option for us. We just don't have the room to store one of this size when not in use. They are about the same height as a regular washer but usually more narrow.
Laundry Pod Review
We could not wait to use ours as soon as we got it. I also could not wait to tell you all about the experience in my laundry pod review.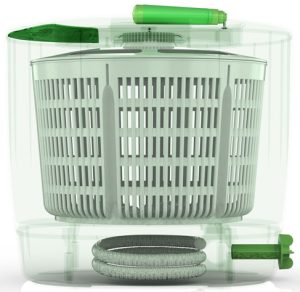 The Laundry PODwas invented by a mom – that's one of my favorite parts! She had two teenagers playing football and basketball and was always in need of last minute uniform washing. She had a background in the laundry industry and just knew there had to be a better way than wasting water and electricity on a full size washer for those small loads.
Her idea was inspired by salad spinners. The Laundry POD uses less than three gallons of water and NO electricity. It was designed specifically for small loads and delicates. It is also the winner of the Best Greener Gadget award and Top Global Innovation GIA award.
It's not hard to operate at all. It is manual of course, so if you have any shoulder or arm injuries you probably should not get one. I have no problems using it with my back problems.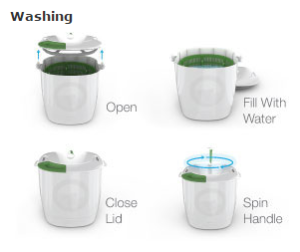 The first thing I do is add my detergent, you only need about a teaspoon and a half. I then pour some warm water in to mix with the detergent so the soap is not directly on my clothes. I keep my POD in the kitchen by the sink so I have a mixing bowl I use to fill it up with.
I then add some clothes and fill it with more water – about 4 bowls in total. I have a video at the end of this article and you can see the bowl I use. The manufacturer recommends 4 to 6 liters. I put the top on and give the handle a few spins just to get it all mixed up but leave it sit to soak for about 30 minutes.
After 30 minutes of soaking, I turn the crank one direction for about a count of 50 and then in the opposite direction for another 50 count. There's a knob on the side to turn to let the water out. Once the flow turns into a trickle, I like to go ahead and dump a bowl of water on top and let it flow through with the valve still open.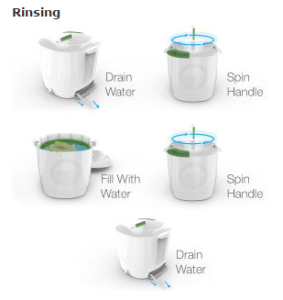 Once that water has drained out, I will close the valve again and fill it with water for rinsing. Again I will repeat the cranking in both directions for about 50 counts. Then open the valve to release the water. This time, when it drains down to a trickle I want to turn the crank some more to give my clothes a final spin and get excess water out of them.
I can now remove the top and take my clothes out to hang dry. We have been hanging all our clothes on hangers in a hall closet to dry. We lay a towel under to catch any water that might drip. I recently purchased an EasyGo Dryer so I will be letting you know how that works out.
Complaints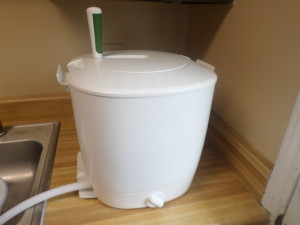 I read a lot of reviews before making my purchase. There were a few negative ones and I will tell you about them.
Plastic shavings – I have not had any issues with plastic shavings on the inside of the POD. On the lid I have seen a small amount as well as a small amount of metal shavings from the handle. I believe this is a result of friction from the handle being turned and is not enough to cause any concern. They don't 'fly up in the air' as one person stated.
Doesn't spin enough water out – I honestly don't see how anyone could say this. I've washed clothes by hand and it spins out the same amount of water as if I had hand wrung them. The difference is, I'm not having to strain myself doing the work. I hang my clothes after and very little water drips from them. Yes, even jeans!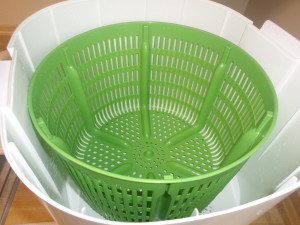 Clothes not clean – Well, if that is that case then you are probably putting too many in it to begin with. I wash all of our clothes in it. I can fit a pair of pants, shirt, underwear, socks and a bra of my daughters in it and they come out very clean. (Even her work clothes!)
I think the negative reviews are from people who expect it to do the same workload as a full size washing machine. This is what it is NOT:
It is NOT powered by electricity so yes, you will have to do some work.
It is NOT a full size washing machine. Don't expect to be able to wash a regular 'load' of clothes.
It is NOT intended to replace a washing machine (even though I have).
It is NOT going to spin as well as an electric washer BUT I think it does a pretty good job.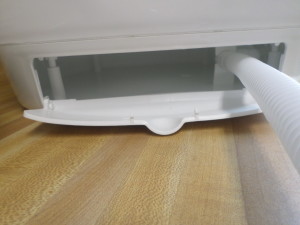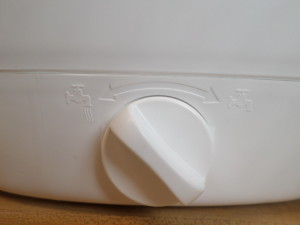 I happen to love my Laundry POD and it has been a great help for us. I end up washing anywhere from one to three loads a day but it really isn't that much of an inconvenience. I put the clothes in and let them soak while I do other things. It really doesn't take that long to spin during the wash, rinse and spin cycles. Other than soak time, I would say on average about 30 minutes or so per load.
Bottom Line
If you want it to work for you then you will find a way to make it work and fit into your life. I think people are too accustomed to 'instant gratification' and aren't always willing to put in a little effort. So if you are tired of wasting money at the laundromat, try the Laundry POD.
I made a video for you on how I use my Laundry POD. It's about 15 minutes so feel free to skip over some parts if you like. 😉
Do you have a Laundry POD?
What is your experience been?
Have questions about mine?
Leave your thoughts in the comments below….