EasyGo Dryer – Portable Clothes Dryer for Apartments
We were so pleased with our Laundry Pod, we thought we would try out an EasyGo Dryer portable clothes dryer for apartments as well. After searching through all the options and reading reviews, we selected the EasyGo Dryer by EasyGo.
[easyazon_block add_to_cart="default" align="center" asin="B00YQLO6Y0″ cloaking="default" layout="top" localization="default" locale="US" nofollow="default" new_window="default" tag="momofsinmom-20″]
EasyGo Dryer Portable Clothes Dryer for Apartments
[easyazon_link asin="B00YQLO6Y0″ locale="US" new_window="default" nofollow="default" tag="momofsinmom-20″ add_to_cart="default" cloaking="default" localization="default" popups="default"]EasyGo Dryer[/easyazon_link] – Portable Electric Air Drying Clothes Dryer, sounds about right doesn't it? Here is the companies claim:
Quiet enough that you can still watch TV or talk on the phone – I'll go along with that. I even used while the grand kids were napping and it did not disturb them.
Quick dry without the damage from the spinning, dries in less than an hour – well, that would depend on what you are drying.

Great for delicate clothes, apartments, condos, camping, RV use and cabins. And also dries caps, shoes, hats, gloves, leathers and more. Just hang your clothes in the EasyGoDryer, switch it on, and let them dry 

– it is not a good idea to use this in a small apartment and I dare say would be the same in a small camper and the like as well.

Leightweight – very much so at less than 4 pounds. My grandson loves to knock it over!
It is electric – no saving on electricity with this one.
Is it an easy dry [easyazon_link asin="B00YQLO6Y0″ locale="US" new_window="default" nofollow="default" tag="momofsinmom-20″ add_to_cart="default" cloaking="default" localization="default" popups="default"]portable clothes dryer[/easyazon_link]?
As portable electric clothes dryers go, I can tell you it does get the job done. It is quiet enough as you can hear in the video below.
In the Box
Some assembly is required, not my favorite words but not so much intimidated by them as I was when my daughter was younger. I'm an old hat at it by now. Here's the box: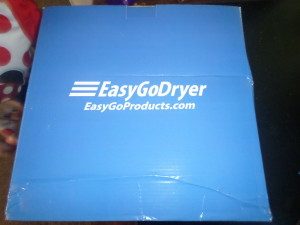 Here's what's in the box: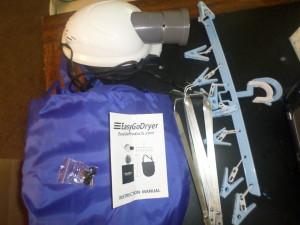 You will need a philips screwdriver and a pair of pliers to assemble without any frustration.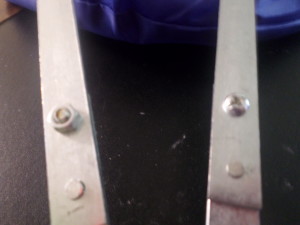 You have 3 bars that you will extend and insert a screw, placing a nut on the other side.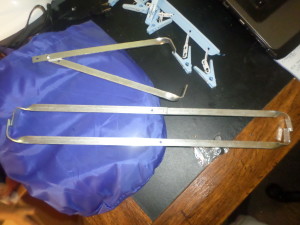 In the upper right of the above picture, you can see what is supposed to be an attachment which hangs from one of these bars. It hangs fine but when I squeezed the clip to hang a pair of pants from it, it immediately broke.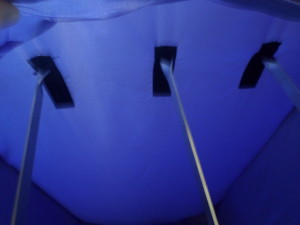 The 3 bars have curved ends which slide into slots on both sides of the canvas. You can use the attachments they supply (not likely since they break easily) or you can use your own plastic hangers (recommended by me).
The other attachment they supply you may be able to use for hanging socks I suppose if the clips don't break on you.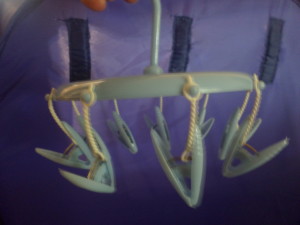 Here is the power source and where the heat comes from: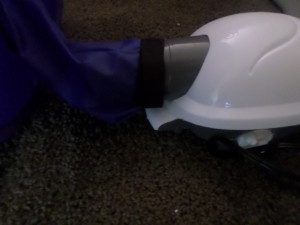 The dial and timer are easy enough to operate. You can set the timer for up to two hours but I would not recommend it. The power box gets overheated easily so it needs to have a long break in between loads of drying.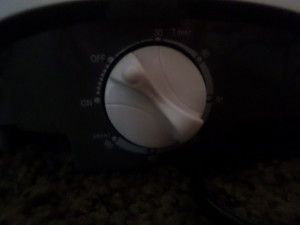 My first attempt at drying was a pair of jeans. I figured I would get the toughest item out of the way and see what this dryer is made of. It took two hours to dry one pair of jeans. Now, even though that seems like a long drying time it really is not. Sure, in a regular sized dryer it would be done in probably one quarter of that time. When you hang your clothes to dry, a pair of jeans can take up to 24 hours to air-dry.
Now For the Really Bad News
Yes, it is an electric device so this won't save you a lot of money. What I was not prepared for is the heat it put out. In the earlier short video, you can see how the top puffs up and there is a hole in the top to let some of the hot air escape.
This hot air escaping is going into your house and it makes it very hot and very uncomfortable, very quickly! As I'm drying my clothes in it, I am turning my air down more and more because I am burning up. That is why I said I cannot see how someone in a small camper would be able to tolerate using it.
Possibly in the winter it may come in handy, I can heat the apartment while drying clothes without using the furnace. But it is a long time til winter so we are back to just hanging clothes to dry for the moment.
Do you have an EasyGo Dryer?
I would love to hear your thoughts about it in the comments below…