Kids Are Inside Too Much!
When I was a kid, all we did was play outside. We knew how to use our imagination and make up things to. My cousins and I explored all over our neighborhood and didn't come home until it got dark or when we got hungry.
How do you get them outside though? One thing you can do is NOT buy so many game systems. They are good for bad weather days but you should encourage them outside when the weather permits.
Outside Games For Kids
Flashlight – After Dark Fun
One of my favorite sites – Kids Activity Blog – recently published an awesome list. Check them out for some great ideas for night time fun and much much more!
Hide and Seek
I'm sure you mom's all remember this game. It can be played anywhere! Hiding and finding is a common interest of small children. You can make up your own variations – count to 10, 20 or 100. Choose a 'base' and the person who is 'it' can start counting. Everyone else hides and whoever is 'it' will try to find them.
Hopscotch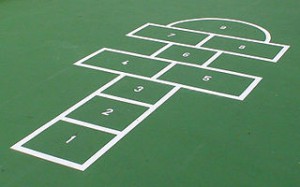 Using sidewalk chalk, make a hopscotch grid. Number the squares from one to nine. Pick a rock that is good for tossing. Small ones can bounce too much, and larger ones are hard to throw.
Start by tossing the rock onto Square 1. Hop over the rock and hop with a single foot or both feet (to follow the hopscotch pattern) all the way to the end. Turn around and come back, stopping on square 2. Balancing on one foot, pick up the rock in Square 1 and hop over Square 1 to the start.
Continue this pattern with Square 2. And so on. If you toss your rock and miss the correct square, your turn is over. This game can be played with any number of people, but only one person can go at a time.
If it's raining or dark or too cold, you can get indoor [easyazon_link asin="B005QDFFN8″ locale="US" new_window="default" nofollow="default" tag="momofsinmom-20″ add_to_cart="default" cloaking="default" localization="default" popups="default"]hopscotch mats[/easyazon_link] using a beanbag instead of a rock.
Jacks
You will need a [easyazon_link asin="B000H35MW6″ locale="US" new_window="default" nofollow="default" tag="momofsinmom-20″ add_to_cart="default" cloaking="default" localization="default" popups="default"]set of jacks[/easyazon_link] and rubber ball. It can be played on any flat surface, inside or out. Scatter the jacks, often by just tossing them out of one hand, as if rolling dice. The ball is then tossed up, is allowed to bounce once, and is caught before the second bounce.
The player tries to scoop up jacks and catch the ball with one hand before the ball's second bounce. The number of jacks to be picked up goes in order. First you pick up one ("onesies"), then two ("twosies"), then three and so on.
It was once called knucklebones. There are many variations to the rules of this game including things like "dumps" and "reverse dumps." You can have many players and take turns.
Red Light, Green Light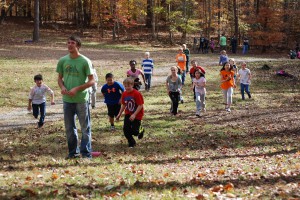 One person is the traffic light at one end, and the other players are at the other end. When the traffic light faces the group, he or she says, "Red light!" and everyone must freeze. The traffic light then turns his or her back and says, "Green light!" while the group tries to get as close to the traffic light as possible.
The traffic light turns around quickly, again saying, "Red light!", and if anyone is spotted moving, they have to go back to the starting place. The first person to tag the traffic light wins and gets to be the next traffic light.
Tag and Freeze Tag
A group of kids decides who will start out as being "it." That person chases the other people around, trying to tag one of them with their hand. The newly tagged person is now "it." There is often the rule of "no tag-backs" where you can't tag the person who just tagged you. The game ends when everyone is tired of playing.
Freeze Tag is a variation of Tag where if the person who is "it" tags you, you have to freeze where you are. Another participant can tag you to unfreeze you.
Those are all things which can be done for free or little money. Here are some other outdoor game/activity products you might try:
[easyazon_block add_to_cart="default" align="left" asin="B0017VO5AW" cloaking="default" layout="top" localization="default" locale="US" nofollow="default" new_window="default" tag="momofsinmom-20″]set of jacks[/easyazon_block][easyazon_block add_to_cart="default" align="left" asin="B000PTZEYS" cloaking="default" layout="top" localization="default" locale="US" nofollow="default" new_window="default" tag="momofsinmom-20″]set of jacks[/easyazon_block][easyazon_block add_to_cart="default" align="left" asin="B000LHWPJQ" cloaking="default" layout="top" localization="default" locale="US" nofollow="default" new_window="default" tag="momofsinmom-20″]set of jacks[/easyazon_block]
[easyazon_block add_to_cart="default" align="left" asin="B004RCNWUM" cloaking="default" layout="top" localization="default" locale="US" nofollow="default" new_window="default" tag="momofsinmom-20″]set of jacks[/easyazon_block][easyazon_block add_to_cart="default" align="left" asin="B000GI0VLE" cloaking="default" layout="top" localization="default" locale="US" nofollow="default" new_window="default" tag="momofsinmom-20″]set of jacks[/easyazon_block][easyazon_block add_to_cart="default" align="left" asin="B003OATJPU" cloaking="default" layout="top" localization="default" locale="US" nofollow="default" new_window="default" tag="momofsinmom-20″]set of jacks[/easyazon_block]