Italian Chicken Sandwiches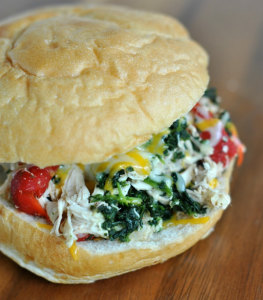 Italian Chicken Sandwiches
Crock pot recipe.
Put 4 boneless chicken breasts in a crock pot
pour a bottle of Italian dressing on top
cook 6 hours on high. 8 + hours on low.
Once chicken is cooked, use two forks to pull apart/shred the chicken.
Serve on buns or rolls.
You can spruce it up with cheese, tomato and lettuce, or eat it just plain on a bun.
Picture above is also shown with chopped spinach added. This recipe is so simple and can be altered for your families individual tastes.