Is it Ever Okay to Hit a Woman?
When is it okay to hit a woman? Is it ever okay to hit a woman? There has been a lot of debate on this subject this year. There have been many news stories. This is because of celebrity involvement. But abuse has been an issue for a long time. Why does it always take celebrities to get important subjects in the news?
First let me get my opinion out of the way. I happen to agree with Whoopi.
This is not the first time she has expressed this opinion. It was also brought up when the videos came out of Ray Rice knocking his then fiance out. Here is what was said then:
Goldberg said on "The View" that no woman should be "surprised" if she hits a man and he hits back.
"If you hit somebody, you cannot be sure you are not going to get hit back!" Goldberg said, adding that women should be taught not to provoke men and expect that they will just take it.
I think we expect too much from even the men with the best of character. No one is perfect. I know if someone was in my face and then hit me, I would NOT just stand there. Would you?
Why then do we expect it from men? Why are we not speaking out about the behavior of these women? You want to be outraged that a man has raised his hands to a woman but nothing is said of the deterioration of the woman's actions.
Legal Defense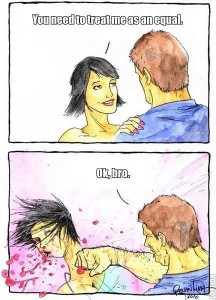 Back to my original question, is it ever okay to hit a woman? The legal answer is "yes." It is legal if it's in self-defense or in defense of others. There is no gender exception to the right to self-defense. If men couldn't use self-defense against women, that would violate equal protection.
Let us do some hypothetical questions. What if a woman were about to hit your child with a rock? What if a woman were beating a dog with a tire iron? What if a woman was punching on a man in a wheel chair? Would you just let it happen because she is a woman?
Let us also not forget that not all women are physically inferior to men. We are all made up of different shapes and sizes. Personally, with my build and training, I know I could hold my own if attacked by male or female. That doesn't mean I would go on the offensive everywhere I go.
Now don't get all in an uproar and say I am okay with men hitting women. That is not what I am saying at all. NO person should hit ANYONE. EVER.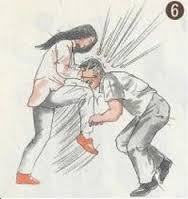 I just agree with Whoopi in saying you cannot get in a man's face (or a woman's for that matter) and think they won't react. You have made an error in judgement and you will most likely pay for it.
Women have cried out for equal rights. They want to be in the army, yet they want safer and easier jobs. They want to say whatever they want and do whatever they want, including cheat and abandon and neglect partners and children, with no real consequence.
They want to hit, and not get hit back. Some women now think they are superior to men and only because they have been raised to believe a man has no recourse to their ignorant behavior. I'm not saying a man should be a cowardly SOB and hit a woman to make him feel tough, nor at the first hint of an argument.
Woman should do any job, do anything they like, but live their lives as good and respectful as they want men to. Don't speak to men like crap, treat them like crap, or assault them and think you should not be treated the same.
If you are the victim of domestic violence, I do have another article with excellence resources listed to assist you.