Applesauce (or Pumpkin) Bread
Applesauce (or Pumpkin) Bread from my grandmother's recipe book.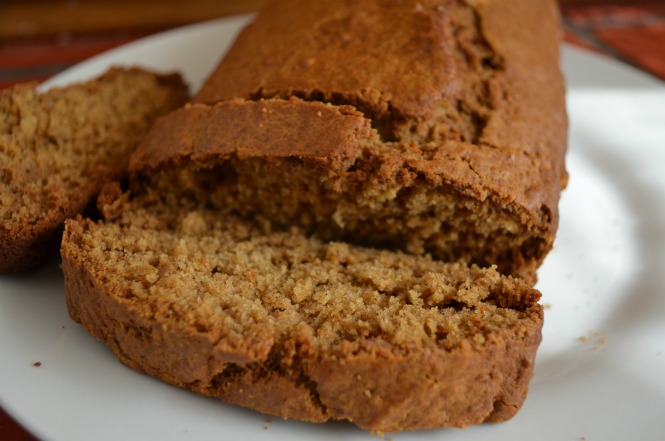 Ingredients:
3 1/2 cups flour                            1/2 tsp salt
2 tsp baking soda                         1 cup oil (any kind)
1 tsp cinnamon                            4 eggs
1 tsp nutmeg                                2/3 cups water
3 cups sugar                                 2 cups applesauce (or 2 cups pumpkin)
1. Mix all ingredients thoroughly, I usually add the flour last but other than that order doesn't really matter.
2. Put mix in oiled loaf pans. Bake at 350 degrees for 1 hour. You will want to check the center and if it is still moist, leave in oven for few more minutes.
The way to check the center is usually done by sticking a toothpick in the middle of the loaf. If it comes out clean, the bread is done.
I find a butter knife works better than a toothpick when checking bread because of the size.
Let the bread cool completely before attempting to remove from pan. When cooled, pat hard on bottom of pan and using a rubber spatula – go around the side of the loaf. This is all to insure the bread isn't sticking to the pan. Then, holding the side of the loaf pan, you want to shake the pan upwards a few times – like you're trying to flip it. Rotate the pan and repeat.
If the loaf lifts when you do this then you should be ok. You can then turn the loaf upside down and let the loaf fall into your hand or onto the counter. I then wrap mine in foil or put in a large baggy with a zip lock.
If you want to double the recipe – here are the ingredients:
7 cups flour                                 1 tsp salt
4 tsp baking soda                        2 cup oil (any kind)
2 tsp cinnamon                            8 eggs
2 tsp nutmeg                               1 1/3 cups water
6 cups sugar                                4 cups applesauce (or 4 cups pumpkin)