Roasted Vegetables with Rice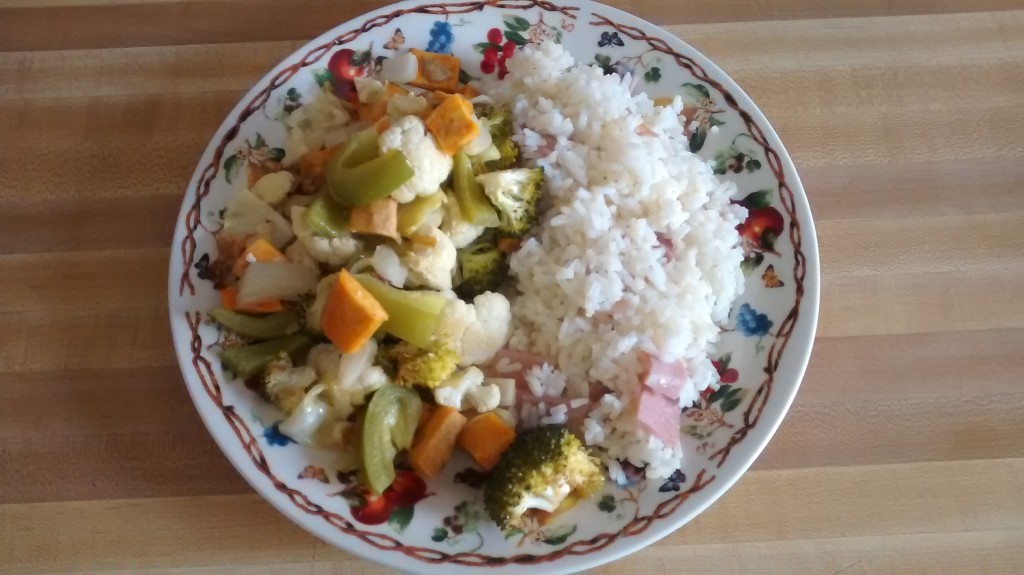 Ingredients:
Broccoli
Cauliflower
Green Pepper
Onion
Cabbage
Sweet Potato
Ginger
Olive Oil
3 Cheese Blend (or seasoning of choice)
Rice
Turkey (chopped)
Directions: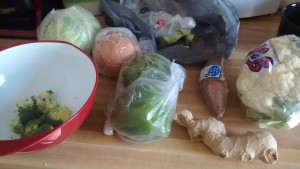 Cut up your veggies in quarters or bite size, whichever you prefer. You won't need all of your vegetable. I used about a quarter of each one and put the remainder in baggies and stored in the fridge.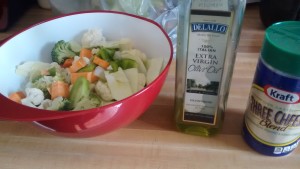 Place your cut veggies in a mixing bowl. Sprinkle seasoning to taste. Using a cheese grater, shred some of the ginger over the veggies. Don't be afraid to use too much!
Pour your olive oil over veggies – I didn't measure but I would say about 1 1/2 to 2 Tbsp, just enough to lightly cover the veggies. Stir all together until you feel the veggies are sufficiently covered.
Spread your veggies out on a baking sheet. I used a pizza pan.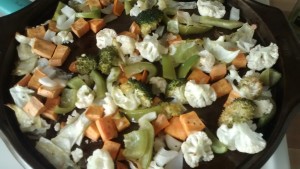 Bake at 200 for 45 minutes or so, until veggies are done to your liking. If you want softer veggies then leave them in a little longer.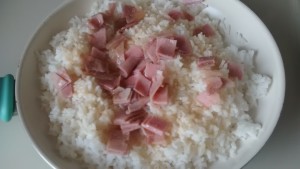 I prepared 2 cups of rice but it ended up being a little much so most likely I will cut back to 1 1/2 cups next time. I used instant rice to save time and fuss. Cook your rice after you put the veggies in the oven and set to the side until veggies are done.
Take your sliced turkey, I used 4 slices but if yours are thicker or thinner slices then you can adjust the amount to your liking. Stack the slices and cut into strips then turn and cut into strips again, making bite size chunks.
Pour about 1 Tbsp olive oil into your frying pan and let it heat a bit. Add your rice and turkey meat and stir until warm. You can also add a bit of season salt or other seasoning for taste. I also added just a bit of honey.
As with any recipe, adjust ingredients and amounts to your taste and needs. I think roasted vegetables are absolutely delicious and I hope you enjoy this recipe.