[easyazon_block add_to_cart="default" align="center" asin="B008FD8ETS" cloaking="default" layout="top" localization="default" locale="US" nofollow="default" new_window="default" tag="momofsinmom-20″]
Hungry Hungry Hippo
Hungry Hungry Hippo has been around for a while but is a favorite of kids.
Young kids are learning their strength and a lot of times find it fun to throw things like toys. One way to re-direct that energy can be a game like [easyazon_link asin="B008FD8ETS" locale="US" new_window="default" tag="momofsinmom-20″ add_to_cart="default" cloaking="default" localization="default" nofollow="default" popups="default"]Hungry Hungry Hippos[/easyazon_link].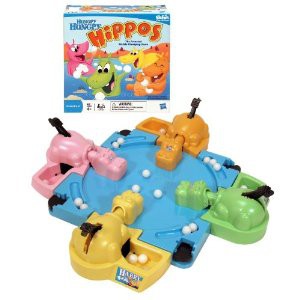 Your toddler will get a kick out of slapping their hand down as well as seeing the result of their action – the hippo opens its mouth.
There is a choking hazard with the small marbles – supervision is a must.
Unfortunately, Hasbro does not make this game like they used to. There have been many complaints regarding the material used such as: the game doesn't sit flat on surfaces (seems warped), the marbles are light weight, and the hippos jaws get stuck open.
Sadly this old time favorite might not be the same as we remember.