This is a picture of my daughter and her two children… Words cannot express the love I have for these three.
I am a writer, a mother and a grandmother. I was a single mom for 18 years. We had good times and bad times like anyone else. I made many mistakes and even got a few things right.
There is no manual on how to be a parent. It is trial and error. I tried going to college when she was a baby and lived off government assistance. We managed but I wanted more for us.
I worked mostly in fast food for a long time and quickly went into management. I knew fast food would be easy to get into and management was where the better money was at. We also moved around a lot so it made it harder to look at other work venues. All my life, I have never lived anywhere more than three years.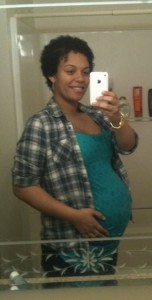 From the moment I felt my daughter move in my belly, I loved her.
I always tried to do the best for her. I was never the kid growing up who dreamed of getting married, white picket fence and 3 kids.
Truth be told, I didn't really want any kids. I was perfectly content to live day to day with no real goals or aspirations.
Isn't it funny how kids can totally turn your life around?
I knew I had to get my act together so I could take care of the new addition to my family.
Getting pregnant was a real wake-up call for me, in so many ways. My parents disowned me and did not talk to me for almost 5 years because the father of my baby is black. So not only was I pregnant but I had no family support. At least until we moved again. I found love and support in my grandparents who helped me through my pregnancy and my daughter's first six months.
When my daughter was about seven we were living in Texas. I began a new career in corrections that year. I worked at a county jail for three years. At that point we moved again to help my parents (ironic, I know). I then worked at a state prison for an additional three years until I got on at a Federal prison, where I worked for four years.
Corrections gave me the independence I needed to take care of my daughter. Unfortunately, after ten years I was burnt out. It is a very stressful job and works on you after awhile.
Thankfully, my parents and I have mended our fences. We have been there for each other when needed. I love and respect my parents.
I have been thinking about doing a webpage/blog for quite some time. I have always been giving advice to other single mothers. I feel I have a lot of experience to share with others.
I have a unique perspective on life in general and have learned how to not let life's little bumps get me down. It is my desire to see single mothers be proud of themselves and believe in themselves. It is my goal to give as much information as I can to help them reach that goal.
As GI Joe used to say, "knowing is half the battle". Please feel free to ask any questions. I am excited to offer my experience and any advice I am able to give, as well as provide information to help others. You can also find me here.
Angela
Founder of Moms of Single Moms