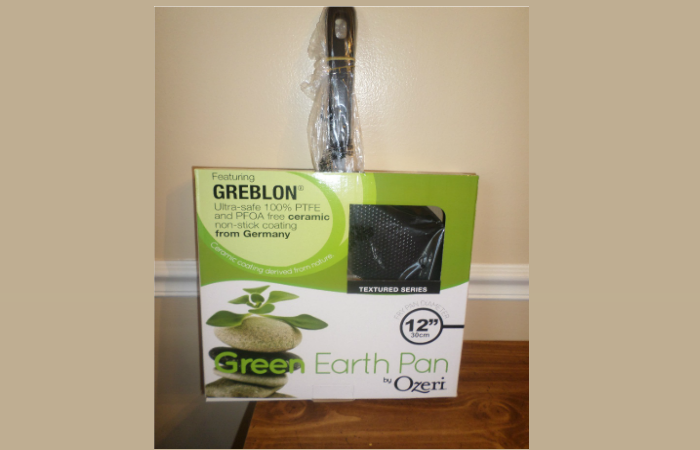 Ozeri is fast becoming a household name for many products ranging from room fans to frying pans to kitchen scales and so much more. The unique quality about Ozeri that I like is they don't spend a lot on advertising and then pad their customer's cost. They rely more on word of mouth. I received the Ozeri Green Earth frying pan free of charge for the purpose of this review.
The pan came in a fairly large box with a lot of brown paper stuffed inside to keep it from bouncing around inside. The pan arrived free of any damage or defects. My package arrived just shy of two weeks from when their representative informed me I would be receiving one.
Ozeri Green Earth Frying Pan
First I will go over what Ozeri has to say about their product and then get on with my experience. There are a few great things about this pan that you want to know. Ozeri is 100% PTFE and PFOA free, instead using GREBLON – safe ceramic coating from Germany. This means no toxic fumes are ever released, no matter how high a temperature you cook on.
If a film ever develops, Ozeri says it may be due to oil or food residue build up, It can easily be removed by rubbing the pan's surface with lemon juice or vinegar then rinse thoroughly.
You can also use this pan in the oven – up to 350 degrees! If you get your meal done early, pop it in the oven to keep it warm.
 What's in the Box
In the box were care instructions and a green pad.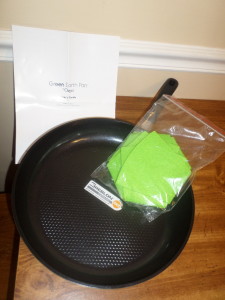 I think this green pad is pretty awesome. It is to lay inside your pan for storing. That way, if you have to stack pans, your Ozeri pan will not get damaged.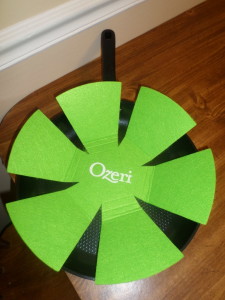 Cooking With Ozeri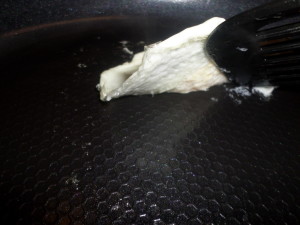 The first thing I wanted to see was if you can really cook an egg with no oil or butter or anything. I will say I seasoned the pan per the instructions. It called for 1 teaspoon of oil and wiping away the excess but really that was too much. I ended up wiping away most of it.
I cooked it on just above medium heat and waited for the pan to heat up, which only took a few minutes. The egg cooked beautifully in the Green Earth Pan. It did not stick and I had no trouble at all flipping my egg over. It only took a couple more minutes and the other side was done and yolk still runny – just how I like it.
But, I didn't want the egg to be the only example I showed. I have also cooked a dish I call Hook-Up. A concoction that has become a family favorite in our house. You can find the recipe here.
I cooked ground sausage in the Ozeri Green Earth frying pan with no trouble. It didn't stick, burn or have a lot of grease. My onions and greens peppers came out perfect. I really couldn't be happier with this pan and plan to buy the 8 and 10 inch as well.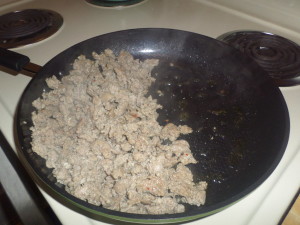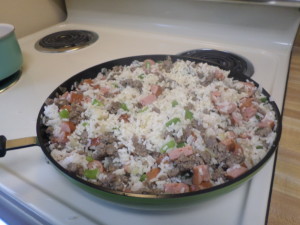 Have you cooked with the Ozeri 12 inch Green Earth Frying Pan? I would love to hear your thoughts in the comments below.