K.I.S.S. Soup
I am always looking for ways to save money and looking for things I feel would be beneficial to young moms. I ask people, friends and family for any tips they have. Today I have asked my friend Catherine to tell us a little about cooking on a budget. Here is her story.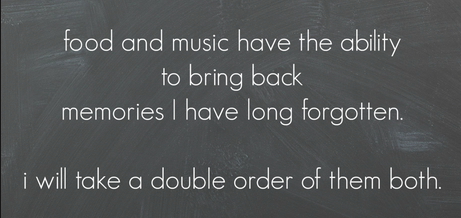 Many others have very happy childhood memories associated with food, there are certain foods I can smell today and instantly be transported back to being six years old!
My mum didn't have a lot of money and she had to budget very well and to do that she made what was called fillers, and one of these fillers was soup. She could not afford a roasting chicken, so she bought an old boiler. This should put in a pot with loads of vegetables such as onions, carrots, parsnips, peas, anything going really and during the last half-hour she added rice. She took the chicken out and took off the wings and a little bit of meat and we had the soup for a meal and chicken for the next day.
I have call this article K.i.s.s. Soup because of the acronym keep it super simple and the fact that cases are associated with families and love. Food is one of the ways we show our family how much we love them and there is no easy way that soup.
To keep soup super simple, tomato soup is great. Most people absolutely adore home-made tomato soup. All that you need for tomato soup is fried onions and a few cans of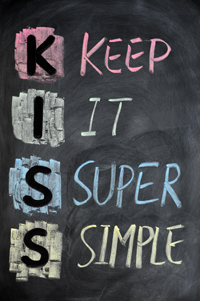 chopped tomatoes, a few stock cubes. Fry the onions add the tomatoes and simmer for 20 minutes. You can then liquidize it using a cheap hand blender or a food processor, or you could just serve it chunky. That is a super simple home-made tomato soup, you can easily jazz that up, by adding bacon or swirling cream just before serving. You can add vegetables such as spinach or carrots.
That's the beauty of home-made soup it can be made with anything that is in the fridge. No matter how many times you use the same ingredients you will never come up with a soup tastes the same because of the different spices, herbs or flavorings that you can use.
To make a truly great home-made soup you need first to fry some onions and add some chopped vegetables, these can include carrots, leeks, rutabaga, white cabbage, turnips and anything else you have!
For your liquid you can add chopped tomatoes, tins of whole tomatoes, tins of chopped tomatoes, milk, vegetable stock, beef stock, chicken stock or water or a combination of them!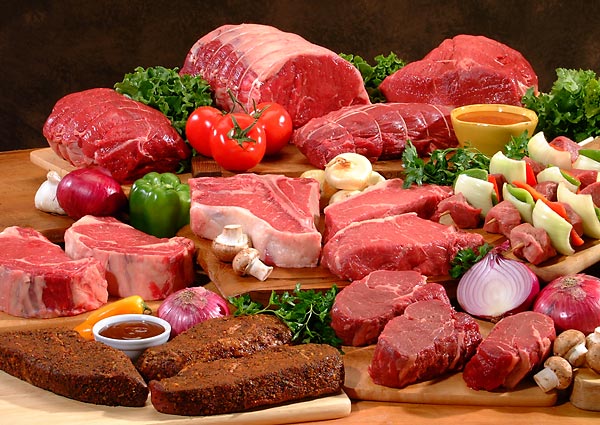 You can add any meat you choose either cooked or raw. If you're using cooked meat pop in at the last minute just to heat through. If you're using raw meat use the bones as well because that will intensify the flavour of the soup. Soup is a great dish for using cheap meat that needs a long time to cook to bring out the flavour. Shin beef is great but add these before the vegetables and cook for an hour and then add the vegetables the last half-hour. If you have no other meat in the fridge but sausages, hey cook the sausages and add them use chorizo or salami to add taste.
I have enclosed a recipe for soup as well but it is only meant to be a guideline. You know and understand what your family like, experiment chuck it all in and see what happens if they like peanut butter add peanut butter. Home-made soup is just that, it's your soup which you can make your own.
One of the reasons my mum made so much soup is the fact that she never knew just how many kids her kids would bring back a dinner. With a huge pot of soup she could add a tin of chickpeas, kidney beans, pinto beans, white beans, black beans or any type of lentil to bulk it out. I just use them because I love the taste.
Are you beginning to get the picture of why my soups never taste the same?
Another great thing about soup is that you can put it in the slow cooker if you have to go to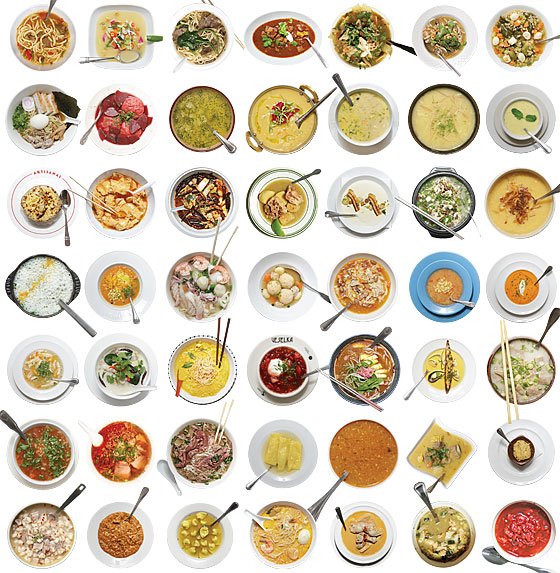 work, you can put it in the oven on low or you can make it the day before and reheat it.
Serve your soup with bread, garlic bread, rye bread, sourdough bread, scones, dumplings, or top it with fried onions, croutons, mixed seeds. Top it would bacon, sausage, grated cheese, sour cream, yogurt, cream and anything else you fancy.
As you can see soup can be as expensive or as cheap as you choose, it can be hearty like a typical Boston chowder or it can be liquidised and elegant. If the month is longer than the money it can be made with store cupboard ingredients.
Home-made soup is a great place to put leftovers. You've any roast vegetables left over just chuck them in the soup, it's great the leftover ham bones, home-made pea and ham soup is a recipe made in heaven.
For further ideas and inspiration Google :
30 minutes soup recipes
Slow cooker soup recipes
Home-made chicken soup recipes
home-made beef soup recipes
home-made vegetable soup recipes
Easy soup recipes
Easy chicken soup recipes
best chicken soup recipes
Hearty Slow Cooker Minestrone Soup
Don't forget to email us and tell us your favorite family soup we will print the best. Also send in your photographs. Submit recipes and pictures here.
Cuisinart CSB-75BC Smart Stick 2-Speed Immersion Hand Blender, Brushed ChromeCheck Price
Hamilton Beach 59770 Turbo-Twister 2-Speed Hand BlenderCheck Price
Hamilton Beach 59785R 2-Speed Hand Blender with Case, BlackCheck Price
Proctor-Silex 59738 Hand BlenderCheck Price