I have a friend whose family has lost their home and have endured a long string of unfortunate events this past year.
They have been able to stay in a hotel the past few nights due to the kindness of others but that is temporary.
Some of us have family we can rely on and never need worry of having our kids living in the streets.
Some of us are fortunate to be secure financially and never have to worry whether our kids will have food and a bed.
Sometimes people hit hard times though and it's hard to focus on what can be done to turn things around when you are worried about your families next meal and shelter.
I would love to be able to help them by giving them peace of mind at least in one area. A safe place to sleep at night without having to worry about where they can stay.
My friend is searching now for an inexpensive place that can be paid monthly and have utilities included.
I am committing to help pay that month to month rent.
I am asking, if anyone feels moved to do so, please contribute what you can.
It doesn't matter if it's $100, $50, $20, $10, or even just $5. Every little bit helps.
If you can help in any way – now or in the future – please visit this page and make a donation.
If you prefer to make a donation of a need item, we are working on an Amazon wish list. Check back often for the update. I will also post on our Facebook page when it is ready.
This is Her Go Fund Me Story
Kids should always have somewhere safe to live, shouldn't they?
My life has been turned upside down. Facing the reality that my family was about to lose our home, I desperately agreed to move in with a long time FB friend and her family. The only offer we had turned out to be a nightmare and now we're left with nothing.
I moved states to arrive at a house where close to 15 cats, 3 dogs, and a ferret are fed once a day and have open wounds and lost hair due to fleas, ticks, and who knows what else that have caused them to lose hair. I thought I could turn it around.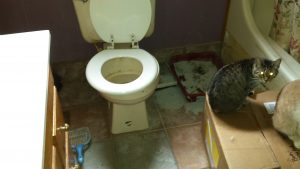 Their washer and dryer were broken, but I had those to share. I thought I could rid them of the few roaches I saw, but they have a nighttime infestation. I thought we could rid then of the stench of cat urine and feces, but we were the only ones to change the boxes and care at all.
My step father in law, who has done more than my own family would have ever bothered their selfish, abusive selves to do, has paid for last night and tonight at a hotel. I have one more solid night of clean, no screaming at each other, no physical harm to an underage boy with disabilities, then, I must figure out our next shelter. As of 5/29/17 at check-out time, we will have nowhere to go.
Corey, my husband, and I washed our 2 out of 3 cats, treated for fleas for 2 more weeks, eaten by a flea infestation in less than 2 weeks, to try to get the stench and bugs to die. I don't know how safe it is to put another round of OTC flea meds on them, but I will do so. We have no idea what happened to Liv, and my youngest is devastated. Momma Liv was his mom's cat and he, her kitten.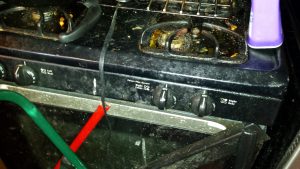 After that, I don't know what will happen. I couldn't hold my tongue and bare it another day without losing my shit and telling them that no one should live like that. I cried for a while knowing we can't even go back to that. My baby boy kept saying it's ok, that I did what I had to do. My young man thanked me for standing up and getting us out. My husband was pained with relief. We didn't need to spend another minute watching garbage being thrown from the first floor to the bare land below at the garage ground.
There are more than just innocent animals caught in this crossfire. The son is underage and Autistic. The adult daughter works so hard to try to live a normal life and defends her mother through yelling and cursing. The owner of the house is a man that has taken them all in, begged them to get rid of the cats, and is now screaming and physically harming the Autistic son because he feels like he is disrespected. The only income they have is through their mother/"fiance," who says she only wants to help, yet, she does little more than say "guys, don't fight."
I feel like I moved us to hell. Due to the move without help, I have bulged disc 3 out in 3 years, and will need a third back surgery ASAP. The last of an ER visit of pain meds are dwindling and barely touching the day's pains.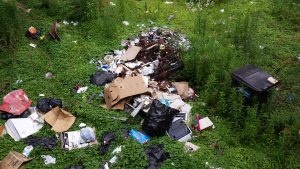 I've included the photos that we took when no one was hawking over us, which was rarely ever. This is what these people live in. This is what we just escaped.
I have been fighting for disability for 3 years so far. My husband was recently denied on his initial application even though his doctor filled out the information stating that he is disabled due to loss of use of his hands from Dupuytren's contracture, a spinal fusion to repair a broken L5-S1, and a severe case of Psoriatic Arthritis, which is currently untreated due to the move, cancelling insurance, and attempting to start the process here.
Where do we go from here? God help us because I have no answers. I know we have probably lost a house full of furniture that will probably only be rid of bugs and stench only by being torched. I am so lost and scared for the first time in a very long time.
Your gracious help is not only appreciated, but will be used as wisely as we can to get to a safe place and begin to start over with our clothes and each other.